A monthly Teen Club ONLINE (via zoom) for young people aged 12 to 18 years with special educational needs, such as aspergers, autism, dyslexia, anxiety, OCD, ADHD and learning difficulties. No diagnosis is required. Age appropriate siblings may also be able to attend depending on spaces (please speak to our staff)
Children must be able to access this activity on an adult to child ratio of 1:8. (We are not able to provide one to one support).
Aim of the club is to encourage socialising and making friends. This online club was started back in March 2020 during lockdown, but at the request of our young people has been carried on.
Young people regardless of the area they live are welcome to sign up and join us in this online session!
Staff & volunteers hosting the session are all experienced working with children & young people with a variety of needs and the environment is supportive and easygoing.
Young people may have a parent or carer with htem online if they need some support.
Before attending these sessions, we ask that all young people have completed an online sign up form and they and their parent have met with staff online first.
The sign up form and online meeting are essential – no young person will be offered a place without completing this. They allow the young person to meet our staff online, begin to feel comfortable with us and give them a chance to ask us any questions they have.
We will talk to you as a parent & assess whether we are able to meet your child's needs and run through how the online sessions work.
These sessions are currently FREE
Booking request is essential via email to rachael@asdfamilyhelp.org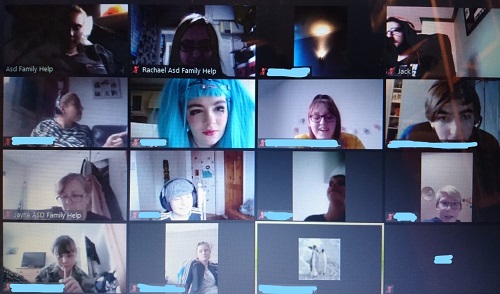 Upcoming sessions
For a full list of upcoming and recent events, visit our Facebook Events pages for your area:
Location
This session is entirely online!
What do we do online?
Young people DO NOT have to have their camera or microphones on if they do not feel comfortable. However, we just ask that they stay in touch with us using the 'chat' facility on zoom, so that we know they are comfortable and happy to be present.
We have a loose structure to the sessions and we are guided by the young people themselves.
Usually we start the session by welcoming everybody and giving everyone the opportunity to tell us how they have been and any news they would like to share with us (nobody is forced to talk and some prefer to type in the chat on zoom).
We usually play some online games – currently a few variations of online Pictionary are extremely popular, but the young people decide/vote what they prefer to do.
We seem to always end the session with a quick discussion about what we are all planning to have for dinner!
If you have a look below (and hover over the bottom picture), you can see some of our daft drawing attempts!